What does Early Childhood Education mean?
There is an information overload on the subject of Early Childhood Education that can often intimidate parents. In simple words, all research suggests that babies have a huge capacity to learn through all the senses. The more stimulation they get through the different senses, the better their brain develops. This capacity to learn starts to slow down around the age of four.
LIFE magazine reported in early '90s that 'Babies can add before they can count. They can understand a hundred words before they can speak. And at three months, their power of memory is far greater than we ever imagined'.
Brain Development
By 8 months, a baby's brain has about 1,000 trillion nerve connections. By the age of 10, that number is reduced to about 500 trillion. As the brain operates on a 'use it or lose it' basis, early experiences are the defining factor affecting the rate of reduction in nerve connections. Studies on neglected children, who had been deprived of physical and mental stimulation, found that parts of their brain were underdeveloped and 20-30% smaller than most children their age.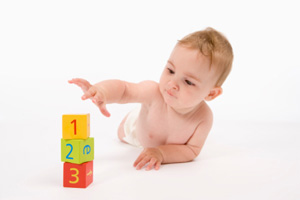 ---